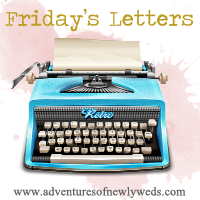 I love this link up party, so I thought I would do it a couple more times!! If you want to join in on the fun just click the link above!
Dear my little angel and devil dog
....remind me that I will never praise you two again. Not only have you only been sleeping for one hour a night, you have become even more ridiculous than normal. Its my mission next week to walk your little booties off to get rid of that extra energy!
Dear Alyssa and Chase
....thank you guys for being our friends and making us get out of our normal routine and actually do things! We had so much fun being river rats with y'all last night!
Dear Z, Boo, Babe, Hubby and everything else that I call you
....so excited about your surprise I have planned for you tomorrow!! And if you already know what it is just act surprised!
Dear Self
....remember when you did the Tone It Up 5 Day Slim Down and felt amazing??? And then you back tracked all week due to laziness?? Yeah not the best idea we have had yet....better luck next week!
Dear Tone it up trainers and community
...love you guys and all of the helpful workout/nutrition tips. I have really not felt this good in a long time! And PS I just want to look like you guys!
Dear Readers
....so sorry for the one a week, weekend post! I promise to get better!
Dear Magic Mike
....don't let me down tomorrow!
What are you weekend letters?? Hope everyone has a fabulous Friday!!!!